Description
Spin Hop, Jump and Walk with Footprints VERSION TWO
Description
This is one of the simplest and most popular packs to get your pupils and educators moving. Children can easily remove the backing paper to place in the shapes in areas that they may plan. Your path will be unique to other schools because you have designed the layout yourselves!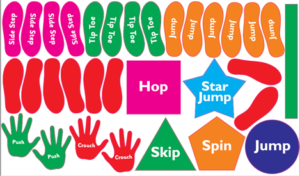 Pack Contents
2 x pair foot prints with side step
2 x pair foot prints with tip toe
3 x pair foot prints with jump
3 x pair foot prints
1 x Pair Hands with push
1 x Pair Hands with crouch
1 x Strip
1 x Star Jump
1 x Jump
1 x Hop
1 x Spin
1 x Skip
Fitting Instructions
Aftercare Instructions
Application Tool
Potential Length: 8 m
Benefits
This pack will encourage large motor skill development while offering an inclusive opportunity for all children to be able to enjoy. Users will be encouraged to utilise arm, leg and core muscles while stimulating neurological activity, co-ordinate the body and mind.